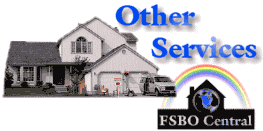 Sales Help Kit - Home seller help kit available containing contracts, forms, instructions, marketing tips, and a glossary.
Buying and Selling Publications - Get even more information on how to make the best real estate investments by doing it yourself.
Custom Web Page Design and Marketing - An economical, professional Web site with full graphics can be your personal advertisement on the Internet.
Custom Sales Brochures - Feature your home or property in style with a professionally designed marketing brochure. Printing packages also available. Call 1-800-690-4818 for quotes.


[ How To Buy | How To Sell | Join FSBO | Newsletter Registration | Loan Calculator ]
[ Search | Regional Info | Who We Are | Contact | Other Services | Home ]
FSBO Central, 2532 N. Fourth Street, #162 , Flagstaff, AZ 86004
Phone#: 1-800-690-4818
© 1997-2005 whitehouse promotions L.L.C., All rights reserved. Created in the USA
Please review our disclaimer statement and Terms & Conditions
FSBO Central and FSBO Central logo are registered trademarks of whitehouse promotions L.L.C


Site Maintained and Marketed by eWebHeads, a whitehouse promotions L.L.C. company