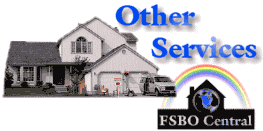 For Real Estate sellers who are serious about marketing their home to get the highest return, we have a sales help kit. This complete kit includes:
legal forms and contracts,
illustrated instructions for forms and contracts,
real estate glossary of the most common terms used,
marketing tips and information on how to get the most for your property,
marketing brochures template for handing out,
all professionally prepared and tailored to help you sell your own home and save money!.

This handy kit is priced to sell at only $15.95 plus shipping of $5.00 for USPS Priority shipping (total = $20.95). Use our online order form now!

For fax orders, print out the Order Form, and fill it in and fax it to Fax .

Allow 3 to 7 days for delivery. Express delivery available, call 1-800-690-4818 for quote.





[ How To Buy | How To Sell | Join FSBO | Newsletter Registration | Loan Calculator ]
[ Search | Regional Info | Who We Are | Contact | Other Services | Home ]
FSBO Central, 2532 N. Fourth Street, #162 , Flagstaff, AZ 86004
Phone#: 1-800-690-4818
© 1997-2005 whitehouse promotions L.L.C., All rights reserved. Created in the USA
Please review our disclaimer statement and Terms & Conditions
FSBO Central and FSBO Central logo are registered trademarks of whitehouse promotions L.L.C


Site Maintained and Marketed by eWebHeads, a whitehouse promotions L.L.C. company